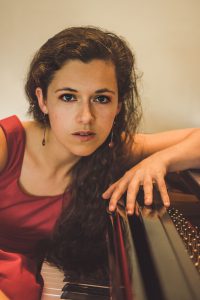 Emily-Rose is one of Australia's most dynamic and versatile young musicians. A graduate in classical piano from the Sydney Conservatorium of Music, Emily-Rose's is also skilled in Voice, Piano accordion, composition, and has recently added the argentine tango instrument, Bandoneón, to her multi-instrumentalist palette. Click here for bandoneon info
During her formal training she was fortunate enough to undertake master classes in France and study in Germany for a year on scholarship. Since graduating in 2010 she has continued as a founding member of enchanting nomadic folk-jazz group Chaika, established highly successful Tango ensemble 'Tángalo' and formed several other projects including jazz duo Blue and Sentimental and leads her own jazz quintet Emily-Rose and the Wild Things which feature mostly original compositions. She has been invited to perform with the internationally acclaimed Australian Brandenburg Orchestra , triple Aria award winning group Monsieur Camembert, and with renowned early music ensemble The Marais Project. Emily-Rose has toured internationally to Poland with the Klezmer Divas and in 2014 she undertook a project with Tángalo in conjunction with the Australian Council JUMP mentorship grant. This involved study and performance in Buenos Aires, Argentina and an extensive Australian tour with Latin Grammy nominated duo Duo Ramirez-Satorre. She was also founder of the first tango studio in Sydney, Sydney Tango House and the largest tango festival in Australia, the Australian Tango Festival, in 2017. In recordings she appears on Chaika's albums Arrow (2019), I Monti (2014) and Chaika (2012), Tangalo's Good Enough for Gringos (2014) and recently recorded yet to be release Marais Project's The Garden Party (2018).
New projects currently in the pipeline for Emily-Rose are collaborations with Canadian multi-instrumentalist Jaron Freeman-Fox and Argentinian guitarist Adrian Ramírez.
Feel free to drop Emily-Rose a line at musicbyemilyrose@gmail.com or 0401432892